Aerodrome Club Flying Field
Our flying site, Chatfield Aerodrome, is located in the southeast section of Chatfield State Park. While Chatfield State Park is owned by the Army Corps of Engineers and managed by Colorado State Parks, the Jefco Aeromod'lers maintain the flying field facility.
Field amenities include:
Two paved runways – one primary 575' long and another cross wind 690' long runway
Concrete pit areas
14 Start locations
11

assembly/disassembly 

benches
Large Pavilion with 12 picnic tables
Multiple sitting benches throughout the complex
Wind sock
Handicap accessible
Flying rules are posted on-site and field rule brochures for your own copy.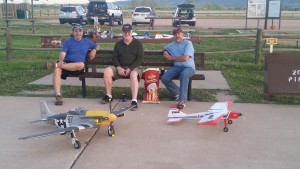 Directions: Chatfield State Park is located at 11500 N. Roxborough Park Road in Littleton. From the C-470/Wadsworth Blvd intersection, go 1/2 mile south on Wadsworth and turn left to Chatfield State Park entrance. Once in Chatfield State Park, proceed past the west entrance Guard Station and turn right (south). Follow road approx. 3 miles then turn right at flying field. Google Map
Park entrance fees are in force. A State Park annual pass is the most cost effective. For annual pass, day pass and other park information, contact www.parks.state.co.us.
FIELD SAFETY OPERATIONS RULES
Know the rules before you fly!
Be safe and enjoy the hobby with your fellow pilots!
This is a only a summary intended to be an overview.
For the complete detailed safety rules, consult the:
ALL FLIERS MUST HAVE AN

AMA LICENSE VISIBLE TO ALL PILOTS

AND MUST FLY ACCORDING TO THE

AMA SAFETY CODE

AND JEFCO AEROMOD'LERS FIELD SAFETY OPERATION GUIDELINES.
EXPLANATION: Colorado Parks and Wildlife require all pilots that use Chatfield Aerodrome fly according to the AMA SAFETY CODE & JEFCO AEROMOD'LERS FIELD SAFETY & OPERATION GUIDELINES.
Failure to comply with the posted regulations could lead to denial of usage of this Colorado Parks and Wildlife facility.
RECKLESS OR UNSAFE FLYING WILL NOT BE TOLERATED. ALL FLIERS ARE REQUIRED TO OPERATE THEIR AIRCRAFT IN A SAFE MANNER AT ALL TIMES.
INEXPERIENCED FLIERS MUST BE SUPERVISED BY SOMEONE ABLE TO  MAINTAIN COMPLETE CONTROL OF THE AIRCRAFT AT ALL TIMES.
EXPLANATION: Student pilots must have experienced supervision. That supervisor must be familiar with the field operating rules.
NO PERSON SHALL POSITION THEMSELVES ON OR NEAR THE FLYING FIELD IN A MANNER THAT WOULD BE OBSTRUCTIVE OR HAZARDOUS TO THEMSELVES OR OTHERS FLYING.
EXPLANATION: When retrieving a model from an active flight area, make sure all pilots flying are aware of your intentions, retrieve the model quickly, and inform other pilots when you are clear of the danger areas. Remember COMMUNICATE! Pilots should be aware of what's happening on the ground as much as possible. It is suggested that every pilot have one observer with them while on the flight line. Spectators shall remain behind the fence.
ONLY ONE RUNWAY WILL BE ACTIVE AT ANY TIME
EXPLANATION: The active runway shall be determined by fixed wing pilots according to the current wind conditions. The intent here is to have all fixed wing pilots operating out of one pilot box so communication and safety can be maintained. This means all fixed wing flights; even hand launched powered gliders and park flyers.  Helicopter pilots shall use one of the two helicopter areas on the unused runway.
ALL PILOTS WILL STAND IN THE DESIGNATED PILOT BOX, NEAREST THE APPROACH END OF THE ACTIVE RUNWAY, EXCEPT DURING TAKEOFF AND LANDING OPERATIONS.
EXPLANATION: You should learn to take off and land your airplane from the pilot's box (flight line).  Ideally that would include all takeoff and landing operations. You are allowed to be on the runway for take-offs, maiden flights, hand launches, or just being unsure of the airplane or yourself. A step forward out of the flight area ½ way toward the runway, still keeps you in the safe zone, and is a very good form of VISUAL communication. Other pilots can see your movement forward and if they don't hear your voice communication they may cue on your movement.
NOTE: DO NOT REMAIN OUT OF THE PILOT'S STANDING AREA FOR EXTENDED PERIODS OF TIME.  FLYING FROM OTHER AREAS DOWN THE RUNWAY IS PROHIBITED & DANGEROUS. COURTESY ALERT: PLEASE DON'T BLOCK THE VIEW OF WHEELCHAIR PILOTS.
CHATFIELD AERODOME HOURS –  

NO flying

(ncludes electrics) or engine start-up may take place prior to 7 am or 30 minutes after sundown. This rule is strictly enforced by the Park Rangers!
Flying Field Rules
PILOTS READY FOR TAKEOFF MUST ASK IF IT IS CLEAR FOR TAKEOFF, IF PILOTS IN THE AIR SAY IT IS CLEAR, THEN YOU MAY PROCEED TO ENTER THE RUNWAY AND TAKEOFF.
EXPLANATION: Make sure that all other pilots know you are going out on the runway for takeoff. Remember COMMUNICATION is the key to safety out on the flight line and the runway.
Remember COMMUNICATION is the key to safe flight line operation. Use you VOICE loudly, "Aircraft ready for takeoff",  "Dead Stick",  "Landing",  "Low On Fuel", "Touch and Go", "Low Pass", etc.
EMERGENCY AND DEAD STICK LANDINGS HAVE PRIORITY OVER OTHER LANDING AIRCRAFT. ALL LANDING AIRCRAFT PILOTS MUST ANNOUNCE IN A LOUD VOICE THAT THEY ARE LANDING.
ALL TAKE-OFFS, LANDING AND HAND LAUNCHES WILL BE IN THE DIRECTION OF THE ESTABLISHED TRAFFIC PATTERN USING THE ACTIVE RUNWAY.
The pilot(s) airborne determine the active runway.
All flying over the active runway will be in the direction of the established traffic pattern.
AUTHORIZED FLIGHT AREAS
PRIMARY RULE- EXCEPT FOR LANDINGS AND TAKEOFFS, ALL FLYING MUST TAKE PLACE IN FRONT OF THE LINE FORMED BY THE FAR EDGE OF  THE ACTIVE RUNWAY, EXTENDED TO INFINITY IN BOTH DIRECTIONS.
NOTE: THERE ARE CAMPGROUNDS TO THE NORTH AND WEST WITHIN ¼ MILE. DO NOT FLY NORTH OF THE PINE TREE ROW OR WEST OF THE 3 WHITE MARKER SIGNS!
HIGH-SPEED, LOW PASSES (150 FEET OR LESS) OVER OR ACROSS THE RUNWAY ARE PROHIBITED.
EXPLANATION: Our pilot's boxes are located within 10 feet of the edge of the runways.  This close proximity, for obvious safety reasons, makes high speed low passes over the runway prohibited. Low speed, out of control landings is dangerous enough.  High speed low passes are allowed if at least 25' beyond the far edge of the runway and at a minimum altitude of 50'.
CAUTION: Never attempt a high speed low pass without notifying all people on the flight line.  Make SURE you know there are no people, animals, or anything living in harm's way (the path of the aircraft).
No fixed-wing aircraft are allowed in heli's airspace at any time!         (Micro airplanes may be flown in the helicopter area if no helicopters are present)
ALL FIXED-WING PILOTS SHALL NOT FLY INTO THE HELICOPTER FLYING AREA, WHETHER OR NOT HELICOPTERS ARE PRESENT.
NOTE: ONLY ONE HELICOPTER AREA ALLOWED ACTIVE AT ANY ONE TIME.
FIRST PERSON VIEW (FPV) IS NOT ALLOWED AT CHATFIELD.
ABSOLUTELY NO HELICOPTER AIR TAXIING! HELI'S MUST BE CARRIED OUT TO THE HELI FLIGHT AREA.
HELICOPTER SPECIFIC RULES
1) The authorized helicopter flying areas are the west or south end of the inactive runway.  A. When the east/west runway is active, helicopters must be flown from the south end of the diagonal runway. B. When the north/south runway is active, helicopters must be flown from the west end of the east/west runway. See diagrams on back page.
2) AIR-TAXING OF HELICOPTERS IS NOT ALLOWED. THEY MUST BE CARRIED TO THE DESIGNATED FLYING AREA