About Us
The Jefco Aeromod'lers was founded in 1959 and is a chartered club of the Academy of Model Aeronautics (AMA). Since its inception, the club has grown from a small group of RC enthusiasts to a diverse group of nearly 300 members.
Members range in age from 11 years old to over 80 years – demonstrating all levels of flying skills.
Members fly models ranging from scale Warbirds to scratch built, gliders to turbine-powered, wingspans from 14" to 120", and basic planes without landing gear to sophisticated aircraft requiring up to 10 different controls and helicopters of all shapes and sizes.

Club Mission
The mission of the Jefco Aeromod'lers is to promote the building and flying of radio-controlled model aircraft in a safe and responsible manner, and to assist in supporting the goals and mission of the Academy of Model Aeronautics.
Academy of Model Aeronautics
The Jefco Aeromod'lers is a chartered club (#176) of the Academy of Model Aeronautics (AMA). The AMA serves as the governing entity of the model aviation hobby. The AMA supports and promotes the hobby through education, school programs, events and provides liability insurance for the chartered club and its members. The AMA also publishes the monthly Model Aviation magazine.
IMPORTANT! All Jefco Aeromod'lers members must be current members of the AMA. Online AMA registration is available at www.modelaircraft.org.
Aerodrome Club Flying Field
Our flying site, Chatfield Aerodrome, is located in the southeast section of Chatfield State Park. While Chatfield State Park is owned by the Army Corps of Engineers and managed by Colorado State Parks, the Jefco Aeromod'lers maintain the flying field facility.
Field amenities include:
Two paved runways – one primary 575' long and another cross wind 690' long runway
Concrete pit areas
14 Start locations
11

assembly/disassembly 

benches
Large Pavilion with 12 picnic tables
Multiple sitting benches throughout the complex
Wind sock
Handicap accessible
Flying rules are posted on-site and field rule brochures for your own copy.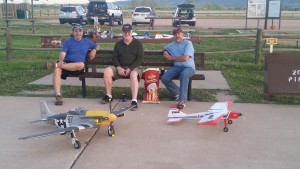 Directions: Chatfield State Park is located at 11500 N. Roxborough Park Road in Littleton. From the C-470/Wadsworth Blvd intersection, go 1/2 mile south on Wadsworth and turn left to Chatfield State Park entrance. Once in Chatfield State Park, proceed past the west entrance Guard Station and turn right (south). Follow road approx. 3 miles then turn right at flying field. Google Map
Park entrance fees are in force. A State Park annual pass is the most cost effective. For annual pass, day pass and other park information, contact www.parks.state.co.us.