Welcome to Jefco Aeromod'lers
SUPPORT THE JEFCO AEROMOD'LERS RC CLUB
DONOR BRICK PROGRAM
In 2011, the Jefco Aeromod'lers created a donor brick program to help raise funds for the club while adding a valued component to the new field info kiosk area. Approximately 60 bricks were engraved and installed.  In 2015, more bricks were added to fill in some existing blank bricks.   The Kiosk area looks great!  Due to renewed interest, we are now launching a Phase III for the brick program!
Your donation will support future field improvements.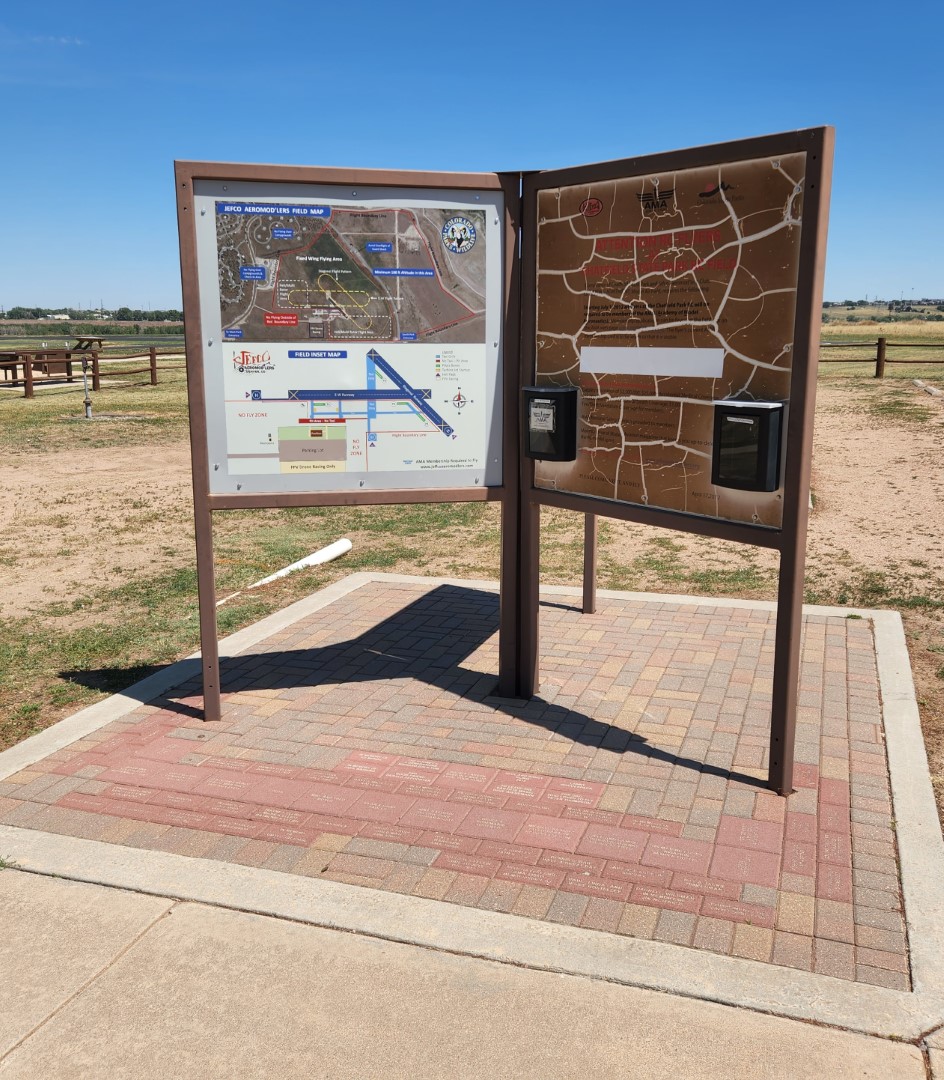 Make a Difference
Support the Mission
The Jefco Aeromod'lers RC Club, a 25 year Academy of Model Aeronautics Gold Leader Club of the Academy of Model Aeronautics, promotes the building and flying of RC aircraft as its primary mission.  The club's flying site, located in Chatfield State Park, is maintained by the efforts of club members and via public donations.  Ongoing field improvements are an important part of keeping our flying field looking great to be utilized and enjoyed by generations to come.
Kiosk Brick!
Two Options of Brick Size & Donation
We have two options for the size of bricks for your donation with a message of three lines of text for the Medium 4″x8″ brick or six lines of text for the Large 8″x8″ brick. There is a maximum of 20 characters per line which includes spaces.
Medium Size: 4″ x 8″ Brick  $100
Large Size: 8″ x 8″ Brick   $250
Gift to the Club
Legacy
Consider a donation to leave your legacy at the flying field!  The Info Kiosk brick area is available for the public and spectators to enjoy at all times.  This is a wonderful way to show your Jefco Aeromod'lers Club PRIDE and also a way to honor your friends and family.  Leave your permanent memories at the flying field.
For your donation, please complete the form below to select your brick size & text to be engraved
The timing and completion of the Brick Program Phase III is contingent on the overall number of orders we receive and on inventory supply.  As a donor, we will keep you posted on the project progress.