Club Flying Facility
Our flying site, Chatfield Aerodrome, is located in the southeast section of Chatfield State Park. While Chatfield State Park is owned by the Army Corps of Engineers and managed by Colorado State Parks, the Jefco Aeromod'lers maintain the flying field facility. Field amenities include two paved runways – one primary 575' long and another cross wind 690' long runway, concrete pit areas, work benches and tables – and the all important – wind sock!  Specific flying rules are posted on-site.
Chatfield State Park is located at 11500 N. Roxborough Park Road in Littleton. From the C-470/Wadsworth Blvd intersection, go 1/2 mile south on Wadsworth and turn left to Chatfield State Park entrance. Once in Chatfield State Park, proceed past the west entrance Guard Station and turn right (south). Follow road approx. 3 miles then turn right at flying field.
Park entrance fees are in force. A State Park annual pass is the most cost effective. For annual pass, day pass and other park information, contact www.parks.state.co.us.
Club Meetings
Club meetings are held:
1st Wednesday of each month
Alice Terry Elementary School Cafeteria
4485 S. Irving Street, Sheridan
6:45 pm            "Hangar Talk" (an informal get-together before the meeting)
7:00 pm             President's Welcome
7:15 pm             Special Speaker/Program
7:45 pm             Club business meeting followed by refreshments, Show & Tell and drawing
Monthly programs often include guest speakers, member "Show & Tell" and educational information to assist you in enjoying the great hobby of flying RC.  Typically there is a drawing for fun stuff – such as accessories and sometimes a plane!
Directions:
From S. Federal & Hampden Avenue, go south on Federal to Oxford Street. Turn right (west) on Oxford and go one block to Irving Street. Turn left on S. Irving Street and go approximately ½ mile to Alice Terry Elementary – located on the right.  We park in the back parking lot.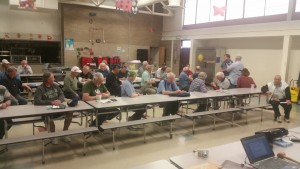 Events
Club events include organized fun-flys, Warbirds Over Denver, awards banquet and various other activities.
The club also hosts the regionally popular Annual RC Auction in February each year. For more info click here.
Board meetings
Board meetings are held the third Wed. night of each month, typically at 7:00 P.M. If you wish to attend, contact President Peter Thompson in advance.
Flying Field Weather Station

For the latest and greatest weather information at the flying field, visit www.jeffcoaeromodlers.com/weather.